MOTORHOME AUTOMATIC HYDRAULIC LEVELLING
by Ma-Ve & Amplo
Two great systems to suit your specific needs & preferences
MA-VE
You know the problem: you're at a campsite or trying to have a quick break in a beauty spot along the roadside… but your motorhome is not parked level. It's so bad in fact, the only available levellers are not good enough to put your vehicle anywhere near horizontal! Your partner watches you pull on the Milenco Ramps – and straight off them, you shout! You try more blocks… maybe a jack… you've got no spirit level… and finally, at long last, you can enjoy your rest.
Then you move on… and at the next stop, it will probably be the same story. When you reach your final destination, you have a whole bunch of problems:
The vehicle rocks when you walk through
Shaking in windy conditions
Water from the shower and sink doesn't drain properly
Doors (toilet, shower) fall open and slam shut
Uncomfortable sleep and a feeling that you're lying "at a slant"
A massive effort is involved stabilising the motorhome each time you stop
The Ma-Ve leveller does not work in the same way as other motorhome levelling products. Most systems require each levelling jack to be adjusted individually, or all hydraulic motorhome jacks automatically lower after that first push of the button. However, with the Ma-Ve system, just two legs are lowered at a time. This means there is no manual exertion or overworking of the pumps. More importantly, there is zero risk of the chassis and bodywork being twisted as there will always be 2 jacks deployed at any same time.
The Ma-Ve system can make your motor homing experience so much better.
ABOUT THE SYSTEM?
The MaVe system works with light-weight hydraulic jacks which are lowered via the control unit or the free Smartphone Application. All standard kits include 4 automatic hydraulic jacks, each of which is capable of supporting 2 tonnes. This is sufficient for most European motorhomes.
The hydraulic motorhome jacks are fastened to the undercarriage by means of pre-designed brackets and are available in a variety of different stroke lengths and ram designs (standard or telescopic). They are also coated 5 times on the body and have stainless feet to provide protection against corrosion.
The hydraulics have a two-way operating mechanism, which means they are power lowered and raised, unlike the other systems which use spring or syphon mechanism. This has the advantage that if a hydraulic jack has sunk, it will still pull clear. The motorhome levelling jacks are operated by means of a 12 Volt electro-hydraulic pump which functions at a pressure of up to 200 bars. This pump can be installed behind a hatch, in an enclosing box or in a storage compartment with pipework running to and from each jack.
The ECU can determine when the motorhome has reached its ultimate level point and is mounted under the vehicle. An operating panel is also installed within the motorhome for complete control.
*Please note: A level system is not designed as a lifting device to allow you to work underneath a vehicle– always follow safe practices and use axle stands.
Fitted from £4,750
Finance available through PayPal
(Under £220 per month)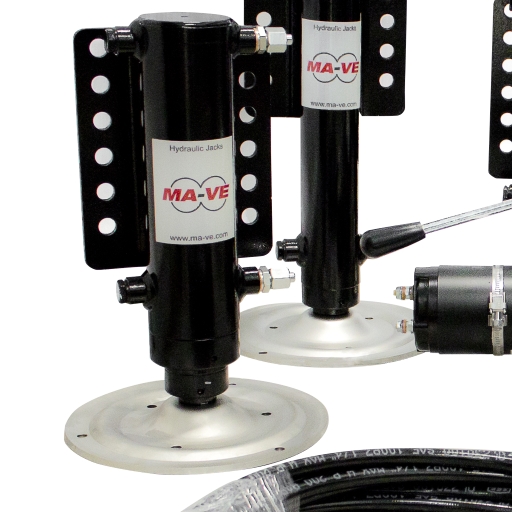 ARE HYDRAULICS LEVELLERS SAFE?
Of Course! There is an inbuilt safety feature which means it will only work if the ignition is off. When you are ready to drive off again, one push on the button is enough to retract all of the hydraulic motorhome jacks in less than a minute. If you forget to retract the levelling jacks and drive off, then an alarm is sounded and the jacks are retracted automatically.
When needed, the Ma-Ve system can also be put into manual mode enabling you to lower the hydraulic jacks manually. Benefits include: lifting one side of the motorhome when changing a tyre and also lifting all four wheels off the ground during winter storage.
When needed, the Ma-Ve system can also be put into manual mode enabling you to lower the hydraulic jacks manually.
ADVANTAGES OF MOTORHOME A LEVELLING SYSTEM?
The motorhome is level and stable in under 3 minutes
Fully automatic levelling
No need to fuss with jacks, ramps or blocks of wood
Safety feature prevents driving off
A compact hydraulic levelling system
Maintenance-free
Jacks are also retracted hydraulically, preventing them from getting stuck in soggy or frozen ground
The most reliable motorhome leveller on the market
Competitive pricing
Excellent UK wide service
Non-Rust Stainless Steel Feet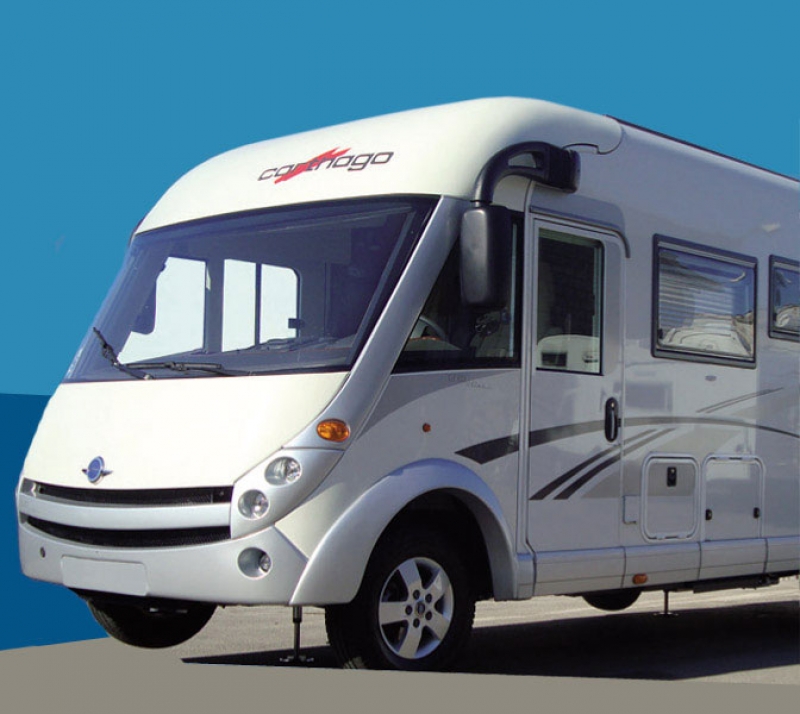 ADVANTAGES
Same day installation
Self-leveling
Easy tire replacement and snow chain installation
No more ovalization of tires in storage
Facilitated roof washing
Sleeping in the correct position
Trim of the camper always leveled
Wireless remote control
Facilitated water discharge
Effective alarm
TECHNICAL SPECIFICATIONS
The standard kit is composed as follows:
4 telescopic cylinders – capacity of 1950 kg each
1 mini hydraulic power unit with emergency manual pump
1 electronic control unit with manual controls
1 remote control for cylinder operation with operation 1-2-4 cylinders at a time front-post-lat right-side left
1 self-leveling
4 mechanical limit switches
1 black box for system control
1 electrical wiring kit
1 hydraulic connection kit with pipes and fittings
1 5lt oil drum. with viscosity index for temperatures -20 ° C + 80 ° C