Running along side our own range of motorhome towbars we now offer fully EC Type Approved, adjustable and fixed width tow bars for use on vehicles with chassis extensions by  M-Tow, AL-KO, Sawiko, Witter, Lineppe, Adria, Memo and any other vehicles with heavy duty chassis extensions.
Legal Requirements
As from 1st April 2012 all motorhomes sold in the UK must have EC Whole Vehicle Type Approval; or for manufacturers selling only in the UK, National Small Series Type Approval or Individual Vehicle Approval. This standard has been in place across Europe for quite some time. Whilst there used to be a debate regarding a Type Approved Towbar, and when it is required (due to different manufacturers building to Whole Vehicle Type Approval at varying times) it is now considered industry standard that any vehicle off a production line after 2012 ("62" Plate) requires a Type Approved Motorhome Towbar. 
As towbars are now subject to MOT, they should always carry a stamp showing the weights, serial number and manufacturer.
The Bar and Chassis
Type Approved motorhome tow-bars generally fit to the heavy-duty chassis' (as listed above) pre-drilled holes in the chassis extensions. Where no chassis extensions are fitted, the vehicle can still have a Type Approved Towbar, but will require the chassis extensions to be fitted at an additional cost. This can be done at our workshops in Stoke on Trent at the same time as we fit your towbar.
During the fitting of chassis extensions to motorhomes, we may be required to reposition corner steadies, water pipes, tanks or other support brackets under the vehicle.  We will always do our upmost to advise about this but simply cannot know all variations used by motorhome builders.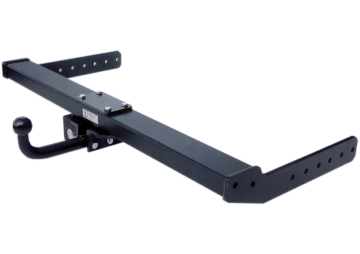 Typical Approved Bar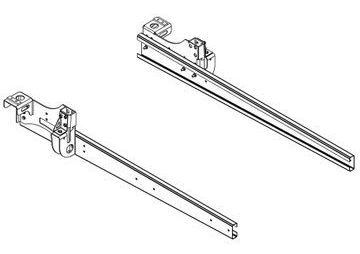 Standard Fiat Extension
The great thing about Type Approved Towbars is that generally the towbar is a lot faster to fit than a custom built, bespoke engineered motorhome towbar. Manufacturers such as Witter, Memo and Tow-Trust offer heavy duty EC Type Approved towbars that are flexible enough to fit a wide range of vehicles and they all meet the minimum requirements set by the European Community (EC94/20 or REG55). Whilst some companies will therefore offer mobile fitting, this is not something recommended by any of them. As a Witter e-fit agent, we (like them) know the importance of a thorough job being completed at NTTA Quality Secured workshops, like our own.
Whilst Type Approved Towbars, with their fixed payloads and nose weights, do offer some issues and limitations with regards to carrying scooters and/or motorbikes we can offer solutions with Type Approved Scooter Carriers and Scooter Racks. These have payloads of up to 150kg. So, as long as your chassis extensions have the capacity, your options are increased.
Many people also like to fit a bumper to their type approved towbar. That is something we can always offer. As expected the fitting time will be extended, but the results are very good. Why not call to get a price!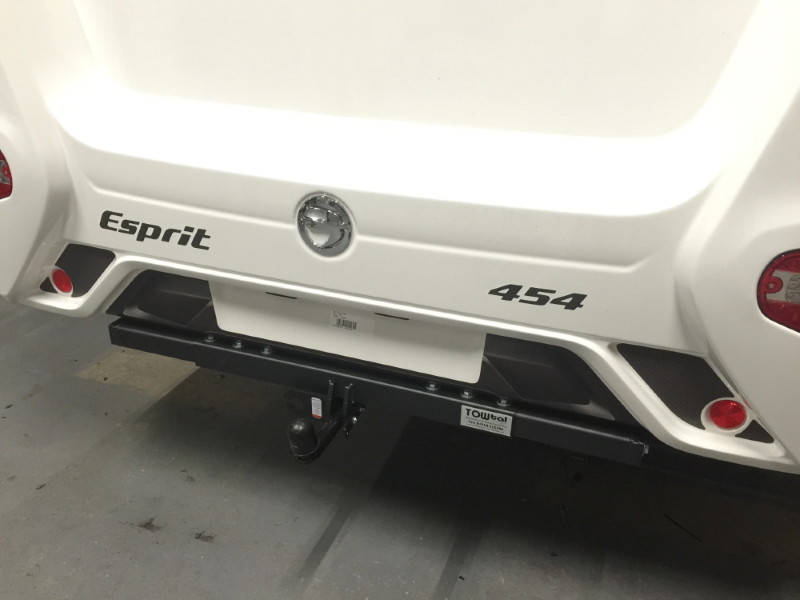 2 Bolt Flange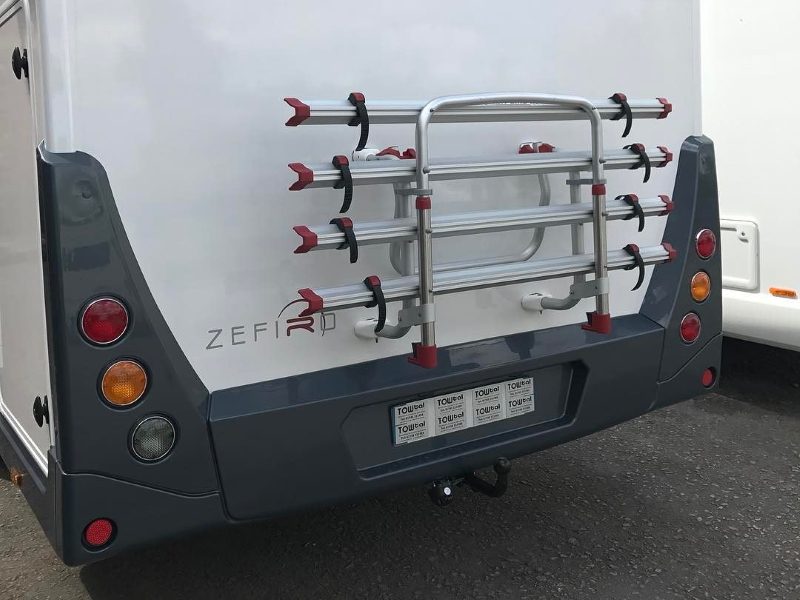 Swan Neck Bar
Advantages of these new towbars are:
Maximum towing capacity according to standardised towing regulations(Regulation 55).
Bolts on to the chassis of your motorhome.
New innovative fixing.
Fast delivery.
Good Price.
Every towbar is supplied with installation guide and a type approval booklet.
Make sure you have the following information available, so we are able to quote you:
Brand of chassis and type (car) e.g. Fiat Ducato 14
Brand and type motorhome e.g.Dethleffs A582
Year of production e.g. 2001
Chassis extenions fitted (yes or no) If yes, does it cover the space between chassis and bumper and is it strong enough to take a towbar.
Width of Chassis in mm. e.g. 1290 mm
Overhang (space between chassis and bumper) e.g. 1100mm
Height between road and bumper e.g. 530mm
We have towbars listed for the following brands:
Adria, Ahorn, Alpha & Car, Arca, Artica, Arto, Autoroller, Autostar, Autotrail, Avon, Bawemo, Beka, Benimar, Bimobil, Blucamp, Burow, Bürstner, CagoCampers, Carthago, Challenger, Chausson, Cicade, C.I. Europe, Clou, Coachman, Concorde, Cristall, CS-Reisemobile, Corfu, Dehler, Dethleffs, Dethleffs, DueErre, Dulle, Dynamax, Eifelland, Elnagh, Euramobil, Fiat, Flair, Granduca, Hehn, Mobil, Hobby, Hymer, Iveco, Joint, Karmann, Knaus, La Strada, Laika, Le Voyageur, Mclouis, Mercedes-Benz, Mirage, Mobilvetta, Moncayo, Pegaso, Phoenix, Pilote, Rapido, Reimo, Rimor, RMB, Robel, Rockwood, Romahome, Rotec, Swift, Tabbert, Tischer, Triple E, Trigano, Vario Mobil, Vilamobil, Volkner Mobil, Volkswagen, Winnebago, Weinsberg, Westfalia, Woelcke, Wingamm.