SR Mecatronic
The market leading satellite throughout Europe now has a solid base and distributor in the UK, and we're proud to be recognised as one of the trained and certified fitters. There's going to be more information here soon, but if you need to know more right now then click on this link: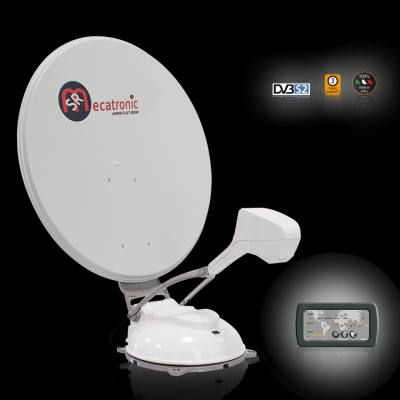 Simply the most technologically advanced roof mounted satellite system available on the caravan or motor home market. Incorporating GPS, automatic skew adjustment and integrated inclination meter – not to mention a 90cm dish –  built with precision engineering and a solid aluminium body. We're talking state of the art and top of the tree!
This version is equipped with a LED-display (7 different satellite positions : Hot Bird (13°E), Astra 1 (19.2°E), Astra 2 (28°E), Thor (1°W), Sirius (5°E), Atlantic Bird (5°W), Hispasat (30°W).
Technical specifications of the ASR 900 FLAT SKEW DF

Offset antenna: (85/90cm)
Twin LNB: with noise figure 0.1dbmax
Fully automatic search system: via NID (DVB-S2 standard EN300 468)
Power Supply: 12V (-20%/+30%)
Power consumption during search: max. 4A
Power consumption in standby: ≤5mA
Fuse: 5A
Weight: 10.9 Kg
Dimensions closed: (Height x Width x Length)  170mm x 850mm x 900mm
Ma-Ve Satellite
When you want the luxury of an uninterrupted TV signal everywhere in the UK, then this is great. A 60cm dish that folds flat and creates a perfect picture – every time – the Ma-Ve offers the simplest and easiest system on the market. 
For more info click here:
Compact & essential but robust and reliable at the same time, the MV600 uses a fully automatic positioning system combined with the best technology in Digital Video Broadcasting – Satellite – Second Generation (DVB-S2)*.
Our CNC machined cast aluminium base incorporates bronze gears and worms in forged steel. Movements of absolute precision are achieved in the most complete silence thanks to the use of automotive motors. Our satellite dish is powered by IP68 micro-switches with gold contacts and an all-weather resistant cover, then seamlessly combined with anodized aluminum detailing.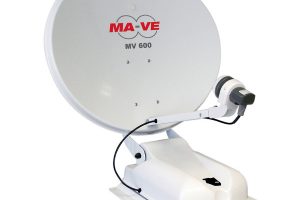 Technical specifications of the Ma-Ve Satellite System

Satellite Dish: Offset Type
Research system: Fully automatic NID recognition according to DVB-S EN 300 468 specifications with DVB S2 tuner
Satellite's sets for 2P versions (depending on the country types) : Hotbird 13 E – Astra 19 (Germany – Italy) Hispasat – Astra 19 (Spain) Astra 19 – Atlantic bird 5W (France) Astra 19 -Astra 23.5 (Belgium Holland) Astra 28 -Astra 19 (England)
Power: 12 Volt DC -20 +30%
Current Consumption: 2 Amp Maximum
Current absorbed in Standby: ≤ 5mA
Weight: 8 Kilograms
Protective Fuse: 3 amp
Closed dimensions: (WxHxH) 605mm x 610mm x 190mm