At Towtal we have been recommending and fitting Air Suspension Systems for our customers for nearly 20 years, some people know them as Semi-Air or Air Over Spring kits.
Fitted to some Motorhomes as standard, the extra support they give you is second to none. Helping to increase handling, payload and distribution – they've even been known to help fuel economy!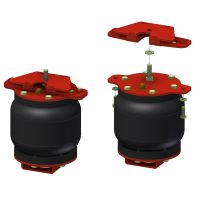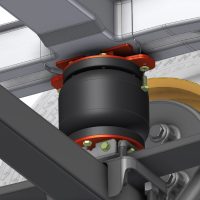 A Semi-Air kit can be made up in multiple ways. We have different versions of kits – all with different prices. Here we'll outline the 3 basic ones to help you choose the correct product.
This includes 2 bellows and 2 schrader valves. Once the airbags have been fitted, you inflate them to the recommended pressure. Other than occasionally checking the pressure, you ignore them and let them do their job.
As the above kit – but has a set of gauges in a visible place. The inflator's are there with them so they can be easily adjusted.
Compressor Kit with Semi-Air
This system has a dash controlled inflate / deflate option to allow easy and constant adjustment to your vehicle. This can help to increase ride height and change handling depending on circumstances such as: Full tanks, Scooter carriage & navigating over speed humps.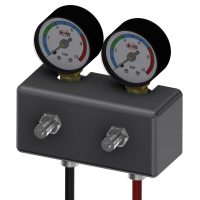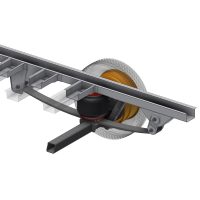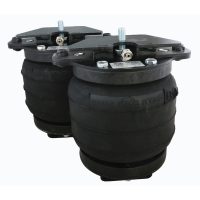 When fitted, our Semi-Air kits can increase the payload of your motorhome. Just call for more info or click here to go to our contact page.
Top Drive Suspension by Esi Italia
Air-suspension can be very important for Motor Homes. Whether this is for improved comfort, stability or enabling a vehicle to be raised to get on and on ferry's, we have the solution.
As one of the top manufacturers, Top-Drive produces a range of air-suspensions which are wider than anyone else, even manufacturing systems for other AirSuspension manufacturers. From semi air on LCV's and Vans – right the way up to full air systems for commercial use. Got a Ford Ranger Pickup? We've got a kit!
Did you know, TopDrive are the manufacturers choice. All AutoSleepers Peugeot models are fitted with our systems as standard.
The most popular model base vehicles:
FIAT Ducato
PEUGEOT Boxer
CITROËN Relay
For more information and an idea of fitting costs for your vehicle please contact us on 01782 333 422
* Different chassis/base models can be an additional cost, other products including Drive-Rite & Al-Ko please call for confirmation